Ninon's retreat experience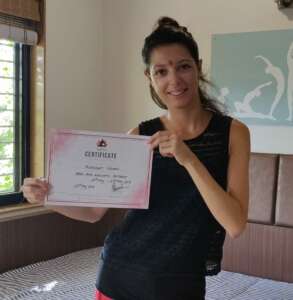 It was a very nice experience that I ll keep in my mind forever ! It was very new for me and I ve discovered a very interesting lifestyle. The teachers were very kind and gave very good explanations about theory and yoga. My teacher and her husband welcome me to their home and we had a very good time together. 
Yoga was new for me and the classes were at the good level. Easy for the beginning and harder then. My teacher answered all my questions, made me become better and thought me how to continue after the 5-day course. Also yoga practice was paired with theory to well understand all the meanings behind. It's was very interesting and helpful. 
Dharmendra's yoga classes experience
Hi, this is Dharmendra Sejpal, yoga student of Mrs. Sangita Porwal. I am very proud to say that my journey of yoga with Mam was very effective and result-oriented. Before joining Sangita's Yogasutra, I was suffering with acute pain in spine and ulcerative colitis.
           In just three months of my yoga practice at Sangita's Yogasutra I started getting positive results and in a year of yoga practice I was completely relieved of my above problems.
           After completing four years of yoga training at Sangita's Yogasutra I have started marathon training and till today after another four years I have run in 80 marathons including 30 marathons of 21km and 1 at Ladakh marathon.
             Thanks a lot to Sangita mam for her disciplined training and teaching of yoga which helped in running also. God bless you Mam……….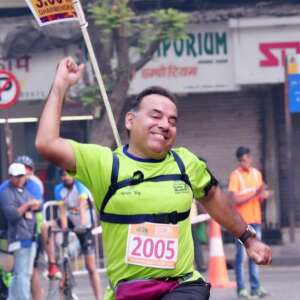 Ustat's retreat experience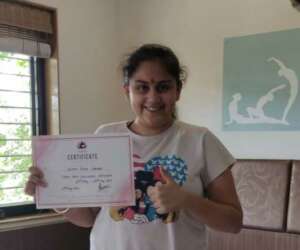 Firstly, i would like to thank you for being such a wonderful teacher and helping and solving all the problems. Being with you was the best part of the retreat. Secondly, the food and the yoga was amazing, lovely to eat and surprisingly the best. The theory sessions taken by Arti ma'am were fabulous as well. The overall experience according to me resulted in a calmer and peaceful change in me. Thank you for making me fall in love with myself. Looking forward to more such retreats.
Abhilasha's post pregnancy yoga experience
I had the most wonderful start to my day! Past few weeks were I wasn't in the best state mentally or health wise. I was feeling like a mess and all over the place.
Look who came to my rescue, Sangita's Yogasutra!
She stayed over last night so that she could be around for me to kickstart my morning. And it worked! We had a 90 minute yoga and pranayam session and revisited my diet followed by a loooong hug!
Feeling the energy and positivity to conquer the world. Going to give it all to follow the routine regularly now!
Bubs joined us for the session and after a while he was also toe touching and cat-cowing and finally he got his pillow and blanket himself and snuggled beside me during shavasan to sleep!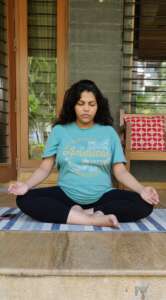 corporate yoga @ ABB Ltd, Nashik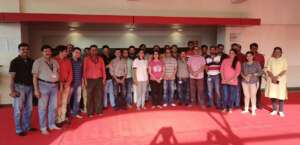 Congratulations on your successful program of Yoga session on 21 Jun 2019 in ABB India Ltd Nashik .
All employees like your way of conducting session and easy way to teach steps of Yoga.
We welcome you for next sessions on Yoga .
Regards,
Dr Sunil Patil
ABB India Ltd .
Craig and Erika's retreat experience
Dear Sangita
We had a wonderful experience with you at your retreat.
Craig and I came to from South Africa not really sure what to expect and what we found was a warm and caring yoga teacher. Your willingness to share your knowledge of yoga and healthy eating really meant a lot to us.We have both found that your retreat has changed our lives for the better.
We arrived at midnight on the train and there was someone to meet us and take us to your home.Your home is lovely your garden with all the birds a breath of relaxation.Every meal we ate was flavour some and very nutritious and a time to chat and discuss our daily experiences. We even had a cooking course that I loved and I have cooked those meals here at home.
Instruction in the Indian culture was given by Sanjay I found it very informative and appreciated the fact that I got to learn about India and their religion and could ask questions , having a discussion about India was really great as we have travelled in India a few times and this was a time where we could ask questions and have decent explanations. The Professor of yoga came and shared his knowledge with us that was very kind and informative.The actual yoga was instructed at our beginners' level and we felt that we where being taught all movements correctly. The meditation and breathing exercises were a new experience and we have definitely felt that this had a positive effect on us, I still practice both.
We had time to relax and went into Nashik to the river and did some shopping we found Nashik interesting and clean and with lots to do. Sanjay took us to the wine estate which is famous, after getting home and having the wine and champagne I wish we had bought more.
I am definitely going back to Sangita's retreat '
A wonderful opportunity to change your life for the better.